Coorg is a tranquil outpost cradled in the Western Ghats, and nestled in the Kodagu district of Karnataka. It is also known as the Scotland of India and is ideal for an incredible hill station holiday. Coorg boasts of some of the most breathtaking waterfalls, lush greenery, and spectacular landscapes. The mighty Cauvery River starts its journey from Coorg.
Kodavas who have made Coorg their home are the most hospitable and pleasant people anywhere. Coorg has produced men of valour, as many Kodavas serve in the Indian armed forces as decorated officers and generals. Coorg coffee is famous throughout the country, as it accounts 40 percent of all coffee production in the country. It's no surprise Coorg is often called the Coffee Capital of India.
Tourists can enjoy the majestic waterfalls, trek mountain peaks, and enjoy a lazy stroll at a coffee plantation. Besides, tourists can shop for spices like pepper, cardamom, eucalyptus, coffee & honey. Some interesting places to visit are the Namdroling Monastery, Glenlorna tea estate, and the Dubare elephant camp.
Some striking places to discover in Coorg.
Coorg is an all weather holiday destination, with each season offering a different natural dimension. The best time to visit Coorg is during the summer months when the day time temperatures are comfortably hot. Monsoon months can be avoided especially when travelling with children and the elderly. Here is a fascinating list of top 10 tourist places in Coorg travellers can discover and enjoy.
01. Mandalpatti Hill
Mandalpatti is a famous hilltop in Coorg. Locals call it Mugilu-Pete which means Market of Clouds in English. Travellers have to trek a 25-30 km long road to the mountain peak from Abbey Falls. It is advised to have a proper trekking gear and adequate food supplies before attempting the ascent. In addition, the forest department operates 4X4 jeeps that take travellers to the base of the mountain peak.
Scaling the mountain is sure to give everyone a thrilling adrenaline rush. Mandalpatti's panoramic view of the mountain range is breathtaking since its untouched by civilization. A watchtower at the mountain peak offers travellers an incredible view of the surroundings. Treading up the mountain peak can be a bit strenuous, but the effort is worth every drop of sweat. Travellers have to purchase an entrance ticket at the forest checkpoint costing Rs 25.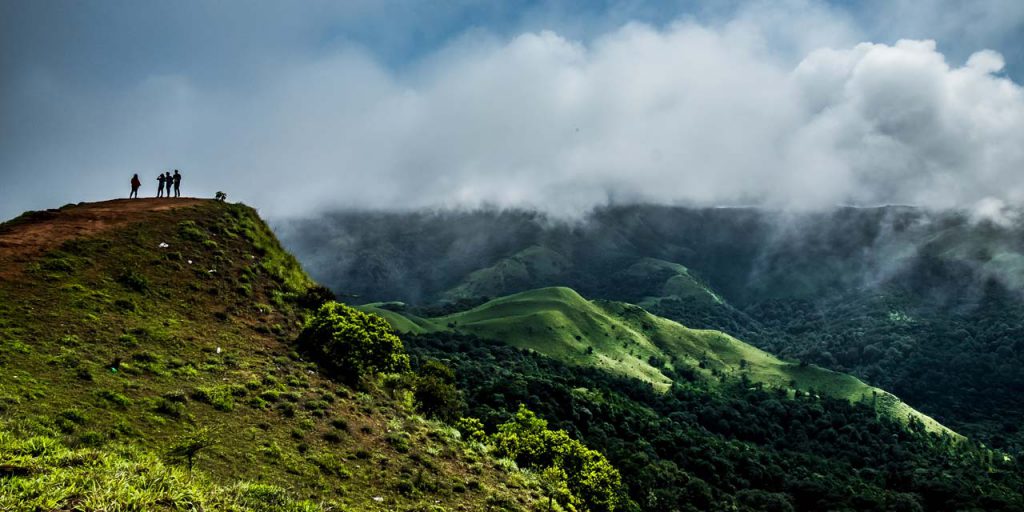 02. Namdroling Monastery
While a trek up Mandalpatti can be a challenge the Namdroling Monastery in Coorg is fascinating. Namdroling is the largest Nyingmapa Tibetan Buddhist centre of learning in South India. This Golden Temple is home to about 5,000 members of the Sangha community.
The monastery houses elaborate artifacts of Tibetan architecture and artwork. A beautifully decorated temple tower, ornate outer walls, intricately Buddhist murals are sure to attract everyone's attention.
Prayer rituals of the monks are a unique sight. A well-manicured garden enhances the sacred vibe of the temple.
03. Madikeri Talakaveri
Talakaveri is an alluring tourist stop that is sublime in nature. It is one of the best places to visit in Coorg as it's the fountain head of the Cauvery River. The river originates here as a small water spring feeding a tank that flows downstream as the river Cauvery. A hillock beside Talakaveri that takes 407 steps to climb and is a must-do. The bird's eye view of the evergreen forest, the misty hills makes for a perfect photo opportunity. The views around the blue hills are riveting and mesmerizing.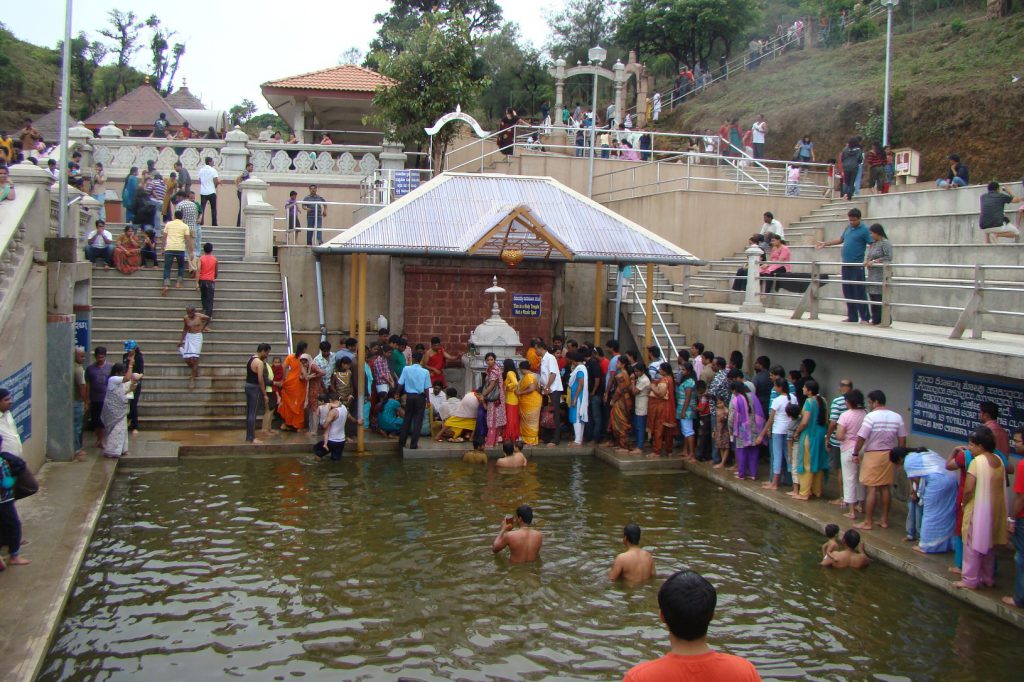 04. Madikeri Dubare Elephant Camp
Dubare Elephant camp offers an adventure experience of living among trained elephants. It is a unique opportunity to learn about the lives of these majestic animals. A large number of Asiatic elephants stroll through peacefully here in their natural habitat. Naturalists and trained mahouts are ever-present to help visitors interact with the elephants.
Visitors have the opportunity to sight birds like peacocks, partridges, kingfishers, and woodpeckers. Dubare is home to spotted deer, tigers, wild dogs, and bears which makes it exciting for many travellers. The entrance fee for visitors is Rs 800 per person.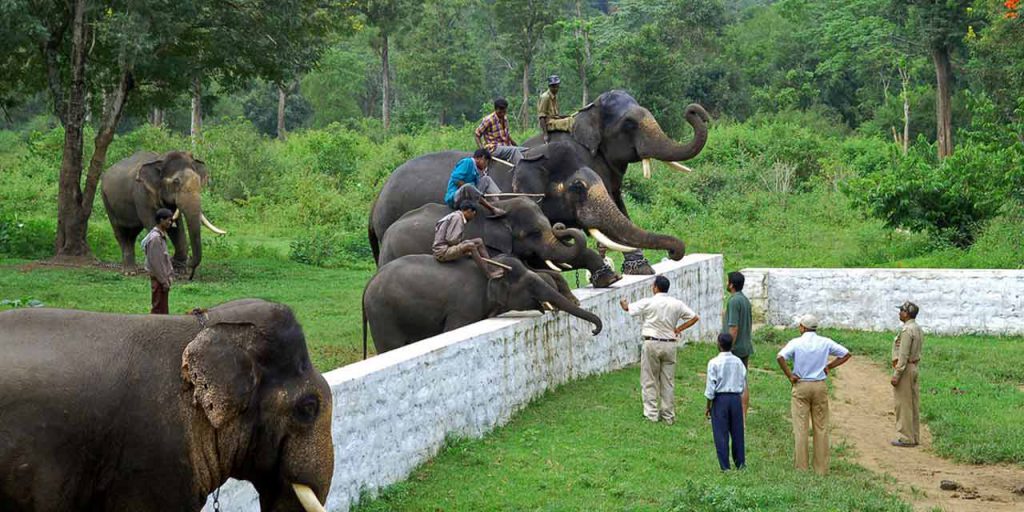 05. Madikeri Abbey Falls
Abbey Falls is about 10 km from Madikeri town and one of the regular tourist places in Coorg. The water cascade drops down a cliff from 70 feet. A spectacular view of the raging waters makes for a picturesque view. A sudden drop of the falls leaves a sizzling water spray when standing beside the falls for some time.
An over-bridge across the fall offers the most picturesque view of the white water stream gushing down the ridge. A walk to the falls traverses through exotic coffee, cardamom, and pepper plantations. Bathing here is dangerous here, but the electrifying waterfalls themselves are enough to draw tourists every day.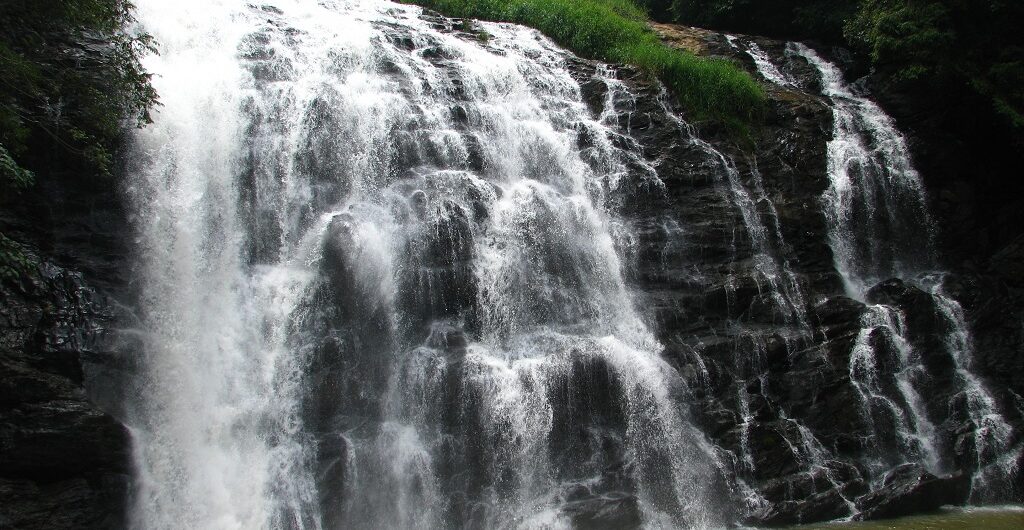 06. Madikeri Fort
Madikeri Fort is a historical fort situated in the heart of Madikeri town in Coorg. This still preserves its old charm that attracts visitors throughout the year. Madikeri Fort was built by Mudduraja, the then king of Coorg. It was renovated by Tipu Sultan, who later renamed it as Jaffarabad.
The Madikeri Fort showcases beautiful architectural designs, while a grand clock tower makes the monument grand.
It is a common belief that the fort has secret passageways that add mystique and curiosity. Other attractions include a public library, the Kote Maha Ganapathi temple, and a district prison.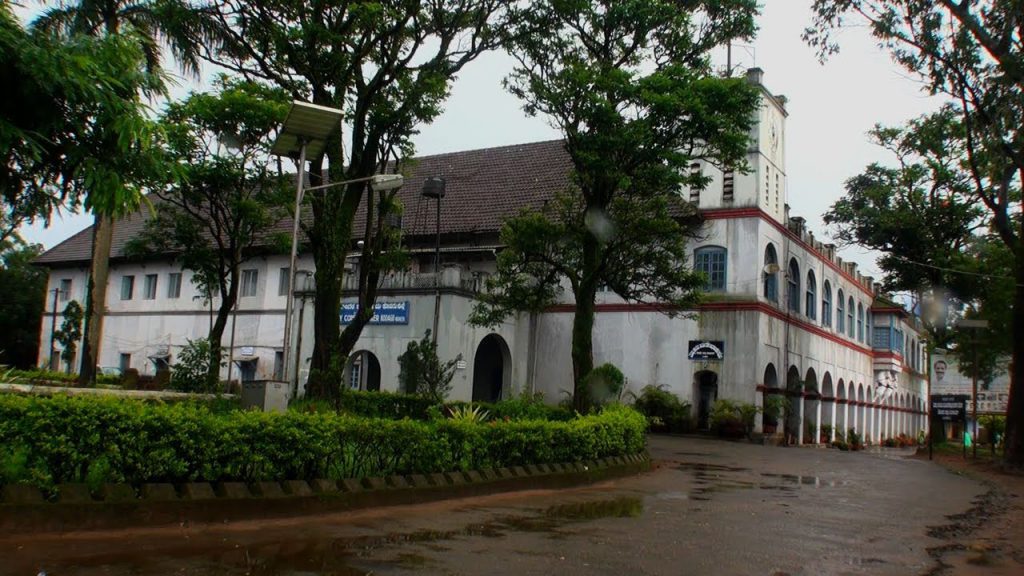 07. Madikeri Raja's Seat
While Madikeri Fort is magnificent the Raja's seat is also wonderful. Raja's Seat means "Seat of the Kings" and is one of the important tourist places in Coorg. This place offers some breathtaking views, a lush green environment, and a sunlit mountain view in the background. Travellers love to walk to stroll the long pathways and visit a park built at the Gandhi Mantapa. An amusement park for children with a toy train is an added attraction.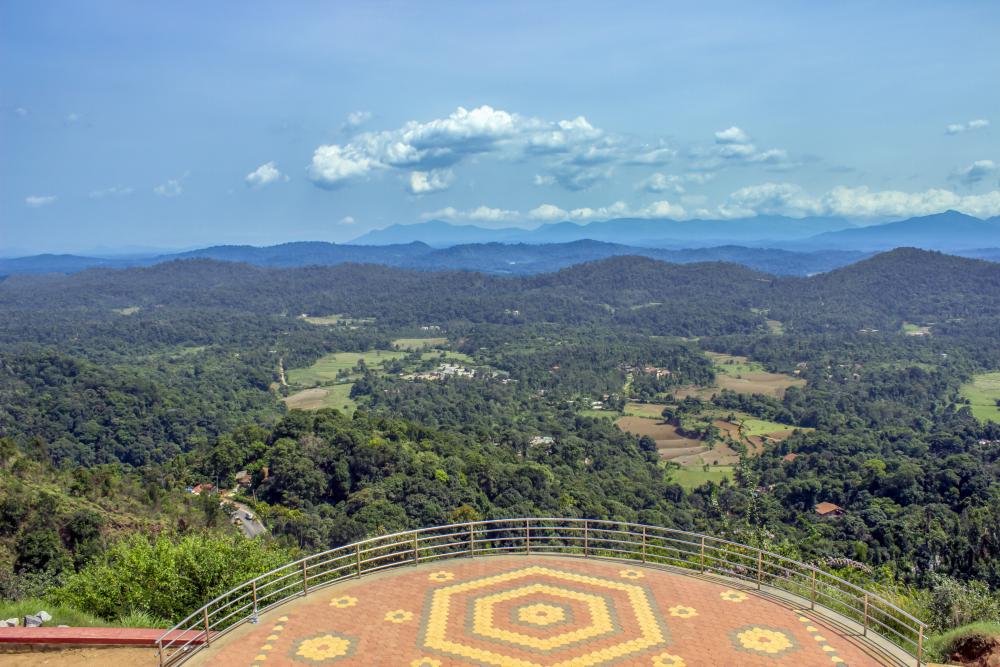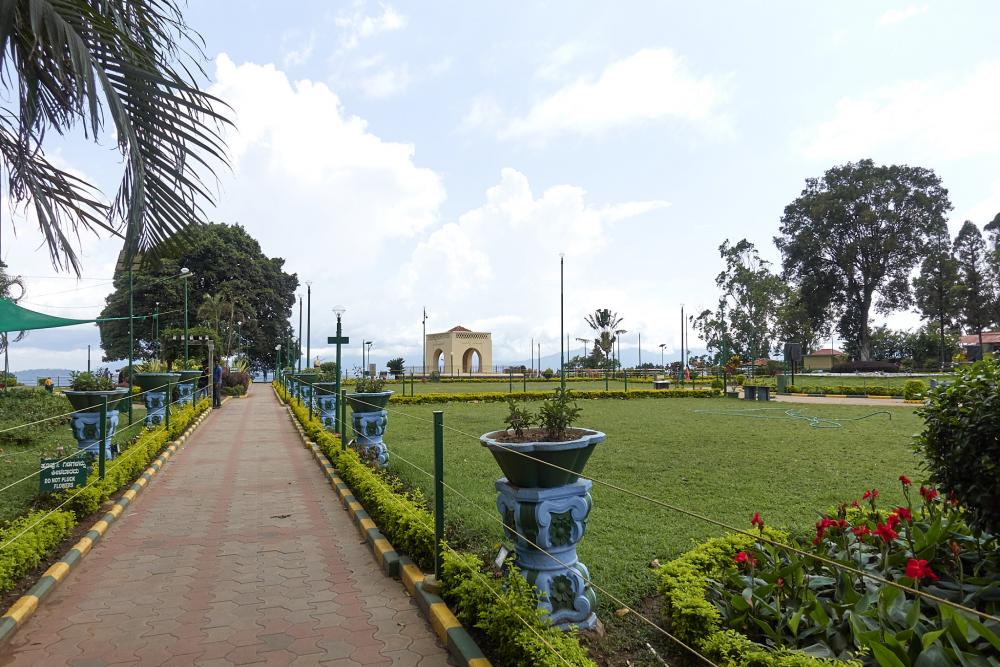 08. St Anne's Church, Virajpet
The towering St Anne's church is an old church in Virajpet constructed in 1792. While being one of the best places to visit in Coorg, it also stands testament to Coorg's secular tradition. This imposing Christian church employs the European Gothic style of architecture with religious statues and well-crafted interiors. St Anne's Church's 180 feet tall spire resembles a large candle, while the two church bells are still in use. A brass lamp, a gold crown, and an ornamental box are the decorations visitors can admire.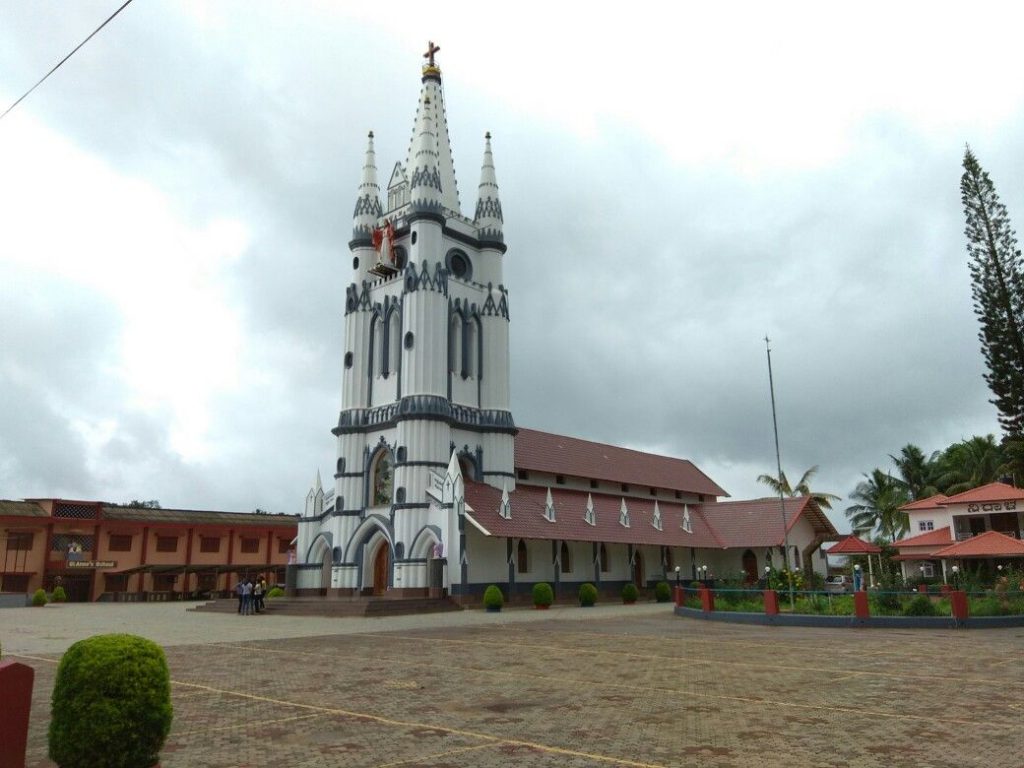 09. Glenlorna Tea Estate
Glenlorna is a tea estate situated near Hudikeri town around 76 km from Madikeri. Owned by Tata Plantations, the 1200 acre property is renowned for its impressive tea production. The estate yields around 3845 kilograms per hectare. An inbuilt tea processing factory makes it the only tea processing unit in the district.
Glenlorna holds a charming and cozy British ambience, enchanting visitors with lush green surroundings and boundless serenity. Plantation tours, long walks around the estate are a must-do for visitors. The estate has visitors from the wild like wild boars, hares, and an array of migratory birds. The undulating landscape is home to many water springs like the Bamboo falls that travellers will love to discover. The estate is open to the public from 6:00 AM to 6:00 PM. But it is advisable to check the local listing before paying a visit.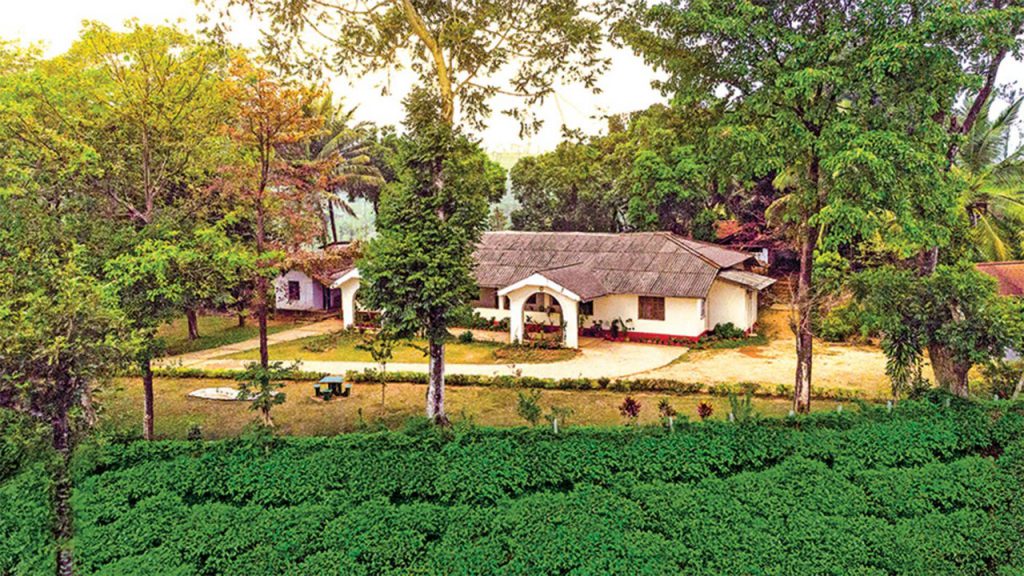 10. Coorg Coffee Shops
Coffee shops and cafés reflect the abundant amount of coffee produced in the Coorg district. The Robusta & Arabica coffee blends are the most popular here. These unique blends add a delectable twinge of Kodava flavor to every discussion at a coffee shop here. The best coffee hangouts are Bigcup Café, Beans N Brews Café, Café Coffee Day, and French Bakery.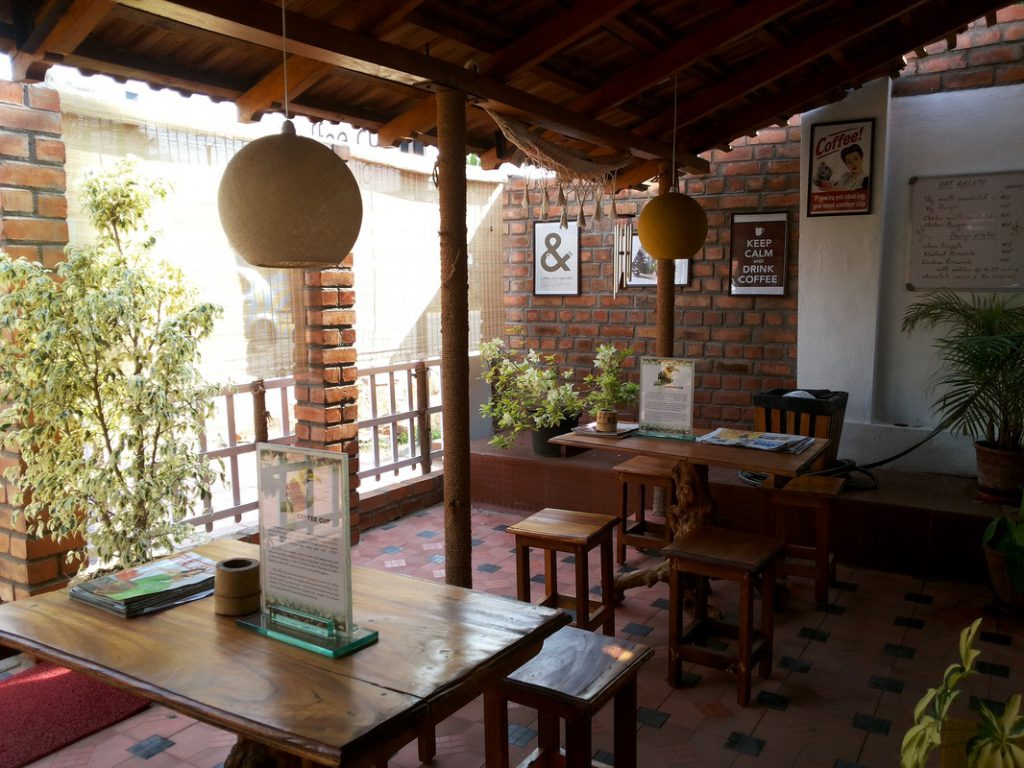 Planning a Coorg Holiday from anywhere in India
The Bengaluru International Airport is well connected to most cities in India. With the advent of low-cost airlines, many operators offer air tickets at very competitive rates. Travelling to any part of India is light on the pocket. A road trip from Bangalore to Coorg can stopover at Mysore, before reaching Madikeri.
Deepamcab's fast, safe and efficient taxi services from Bangalore is a safe bet for all travel needs. Tourists can use Deepam's services for a fabulous Kodagu holiday. Its affordable cabs in Bangalore have a travel solution for all your planned and immediate travel needs. Deepamcab's vehicles range from low-cost hatchbacks, sedans, SUVs, and TT's.
Deepamcab' will pick its customers from the airport; accompany them on a fascinating tour of Coorg. Deepamcab' will ensure travellers are secure and on-time to catch their flight back home from the Bangalore Airport.
An amazing Coorg holiday for everyone to enjoy…
Coorg's delectable cuisine made from fresh produce are a must have. Especially, the non-vegetarian varieties like pandi curry. For vegetarians there is akki rotti, nool puttu, and koovaleputtu.
Tourists will fall in love with Coorg for its undulating landscape, magnificent waterfalls, and imposing mountain ranges. Misty hills, lush green forest, verdant locales, and breathtaking views make Coorg an unforgettable holiday destination. Whispering valleys, dew-kissed hills & gentle streams at Coorg all have stories to tell. Coorg will leave every traveller spell bound and wanting for more.