A honeymoon is a holiday spent together by a newly married couple after their wedding day. Honeymoons have come to symbolize the sweetness of marriage. It has significance to a European custom to give newlyweds an alcoholic beverage made from fermented honey and water. Planning a holiday in top honeymoon destinations in South India is a fulfilled way to start married life.
Searching for that ideal destination for a fun-filled, exciting holiday for newlyweds is a good problem to have. Honeymoons let couples know their soul mate intimately and establish close bonds of love, trust, and understanding. 
South India is endowed with some of the best tourist hotspots anywhere in the world. The imposing Western Ghats of the Indian Peninsula create a spectacular vista. It's filled with hill stations, beach resorts, and jungle reserves apt for any holiday need. 
Top 12 Honeymoon Destinations in South India New Weds Can Discover.
Deepam Cabs recommends the following destinations to choose based on a honeymooner's budget and preference.
1. Kovalam – A Resplendent Beach Outback.
Kovalam is just 16 km from Thiruvananthapuram, the capital of Kerala. It is renowned for crescent beaches and spectacular coconut palms. A massive rock formation on the Kovalam beach creates a beautiful bay of calm waters ideal for sunbathing. It is one of the best honeymoon places in South India
International travellers throng the beach to enjoy the ambience of the sun-kissed beaches. Kovalam comes to life during the night as the beach is flush with many tourist attractions. Many budget cottages, Ayurveda health resorts, shopping zones, Yoga, and Ayurveda centres can be discovered.
The places to visit near the Kovalam beach are Hawah Beach, Valiyahtura Pier, Lighthouse Beach, and Chowara Beach. Other tourist places near Kovalam are the Neyyar Dam, Halcyon Castle, and the Karamana River Front. Deep blue waters and the rocky headlands make Kovalam a beautiful beach paradise for honeymooners.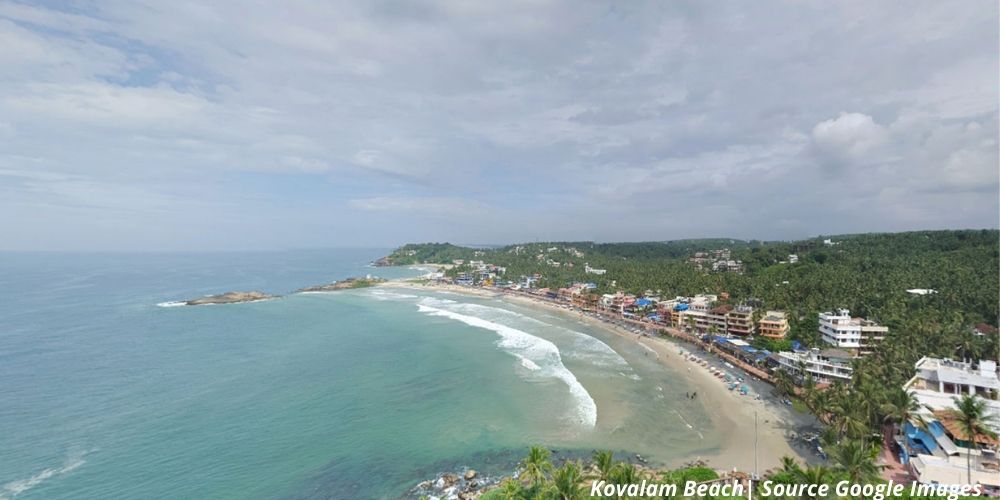 Kovalam is ideal for a beach-based holiday, but Coorg has some breathtaking locales honeymooners will love. It is a preferred honeymoon destination in South India for millennials who love nature.
2. Coorg – The Scotland of India
Coorg is a tranquil outpost cradled in the Western Ghats and nestled in the Kodagu district of Karnataka. It is also known as the Scotland of India and is ideal for an incredible hill station holiday. Coorg boasts of some of the most breathtaking waterfalls, lush greenery, and spectacular landscapes. The mighty Cauvery river starts its journey from Coorg. 
Kodavas who have made Coorg their home are the most hospitable and pleasant people anywhere. Coorg has produced many men of valour, as many Kodavas serve in the armed forces as decorated officers. Coorg coffee is famous throughout the country. Besides, it accounts for 40 per cent of all coffee production in the country. It's no surprise Coorg is often called the Coffee Capital of India.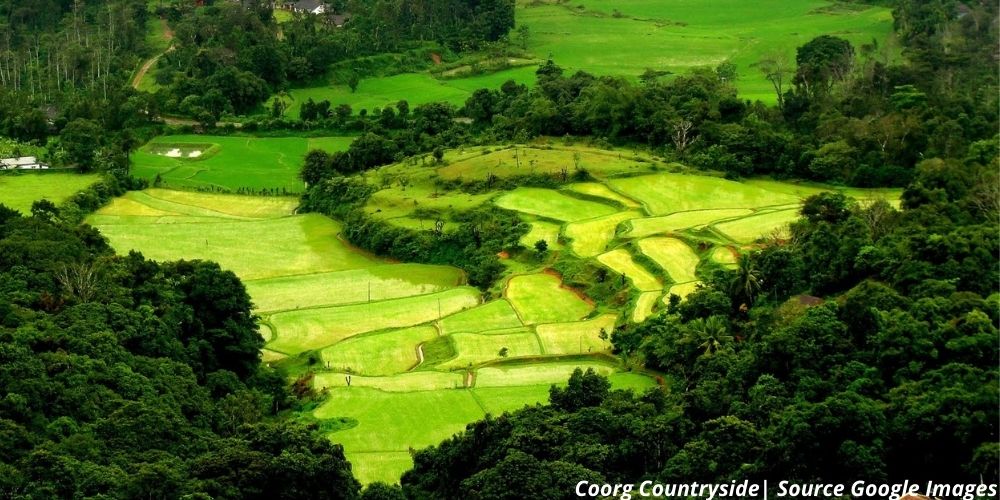 Tourists can enjoy the majestic waterfalls, trek mountain peaks, and enjoy a lazy stroll at a coffee plantation. Besides, tourists can shop for spices like pepper, cardamom, eucalyptus, coffee & honey. Coorg is one of the safest honeymoon destinations in South India.
The must-visit places in Coorg are Abbey Falls, Omkareshwara Temple, Madikeri Fort, and the Raja's Seat. Some most visited tourist places near Coorg are the Namdroling Monastery and the Dubare elephant camp.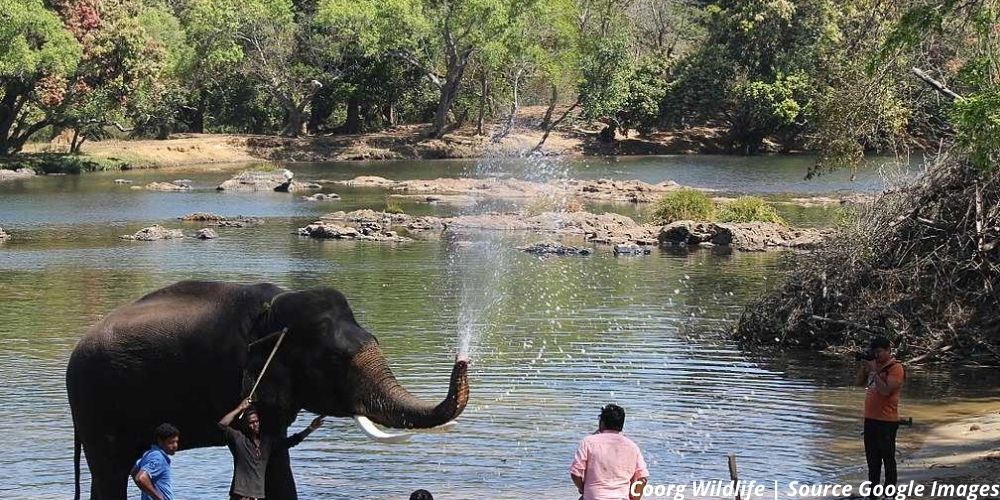 Kodaikanal is very similar to Coorg, offering a vista of visual delights loved by all.
3. Kodaikanal – Princess of the Hills
Kodaikanal is a picturesque hill station located in the Dindigul district of Tamil Nadu. This beautiful hill station is also called the "Princess of Hill Stations". The British developed this hill station in the early 18th century to escape from the heat of the Indian summer. Kodaikanal is one of the cleanest honeymoon places in South India.
Kodaikanal is known for its rich flora consisting of big trees like eucalyptus and acacia trees. Pine tree plantations yield fruits of the highest quality. All activity start and end at Kodaikanal Lake. It is the centrepiece of all economic activity in the town.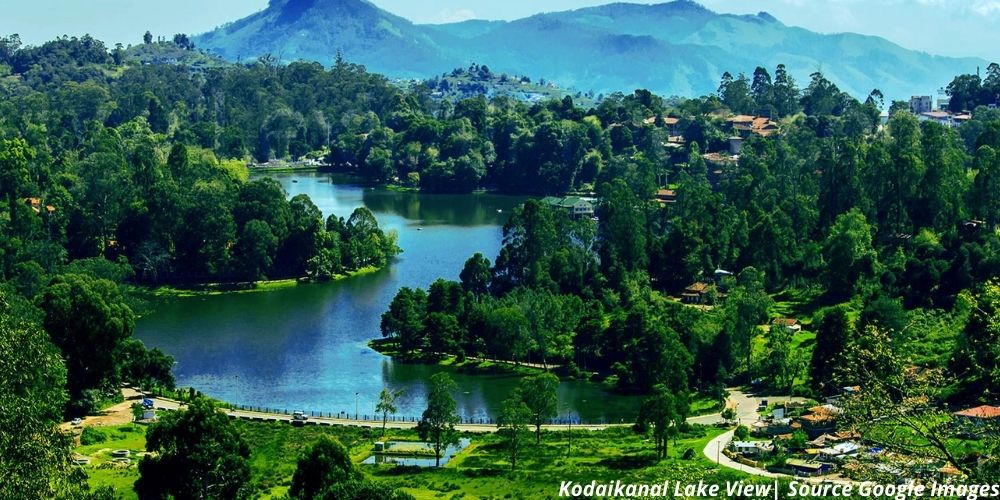 The top tourist places in Kodaikanal are Kodaikanal Lake, Bear Shola Falls, Silver Cascade Falls, La Salette Church, and the Chettiar & Bryant Park. Kodaikanal is offbeat as it is not densely populated and commercialized like Ooty and Munnar.
It's a favourite retreat for the elderly and a preferred holiday spot for honeymooners. Tourists will need at least a week to discover all the tourist attractions at the Kodai hills. The other places to visit in Kodaikanal outskirts are the Dolphins Nose, Guna Caves, and the Kodai Solar Observatory.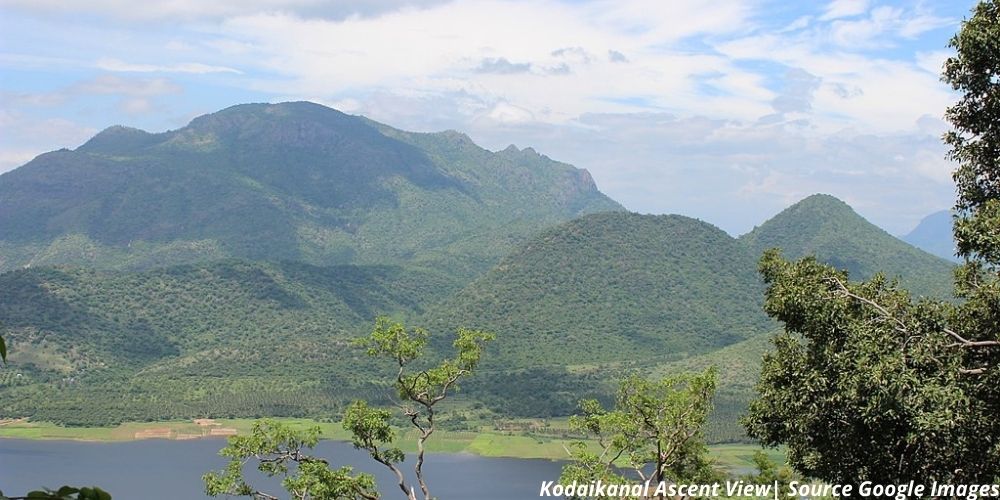 Kodaikanal might be quaint & delightful, but Ooty her distant cousin is also worth giving a try.
4. Ooty – Queen of the Hills
Ootacumund or Ooty is a serene yet breathtaking hill station in South India. Situated over 2200 meters above sea level, offers some spectacular views of the Nilgiri mountain range. Ooty is famously called the "Queen of the Hills" for the astounding sights and sounds it offers. 
Ooty's quaint bungalows and well-crafted gardens are remnants of a bygone era. The British loved Ooty's cool and temperate climate. Officers of the British Raj made it their summer capital during their stay in India. 
Ooty comes to life in vibrant colour during the summer when the punishing Indian summer stresses everyone living on the plains. Honeymooners, nature lovers, photo enthusiasts, trekking addicts, and adventure freaks all want a bite of Ooty.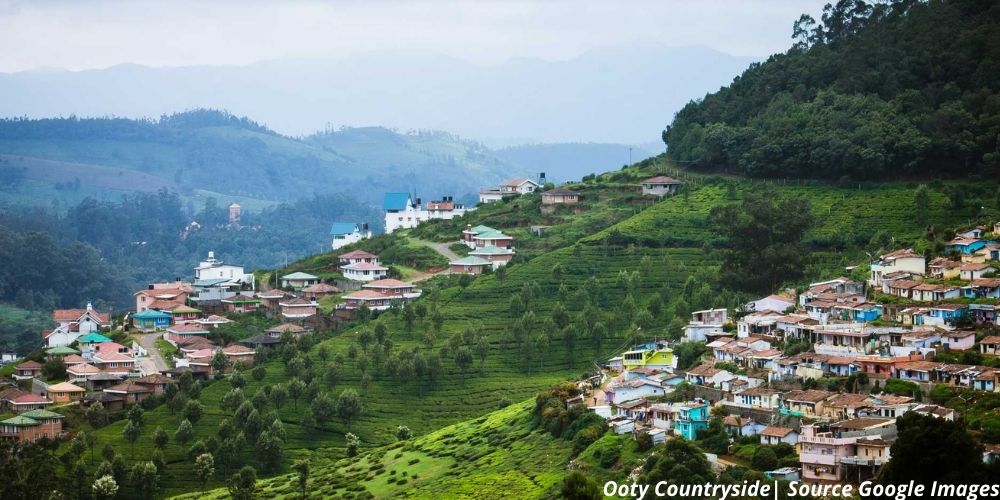 The top tourist places in Ooty are the Boat House, Botanical Garden, Rose Garden, and the Kamaraj Sagar Lake. Honeymooners can purchase different chocolate varieties like chocolate with cashews, almonds, fruits, and nuts for their loved ones back home.
A 20km stretch of road from Coonoor to Ooty offers a riveting view of nature at its best. The sharp hairpin bends while on an ascent to the hill station makes people wanting to come back for more.
The other places to visit in Ooty outskirts are the Ooty Dolphins Nose, Kalhatti Falls, Ooty Deer Park, and Black Thunder Theme Park. A stopover at Mysore is a good idea when travelling from Bangalore. Please check this blog to know about Mysore and its attractions
If honeymooners prefer a holiday near a city or beside the sea then Mahabalipuram is the place to be.
5. Mahabalipuram – Tamil Culture on Display Besides A Beach
Mahabalipuram, also known as Mamallapuram, is a town in the Chengalpattu district of Tamil Nadu. It is a UNESCO World Heritage site. This was a port city in the Pallava Kingdom in the early 4th century CE. The town is named after the Pallava King Narasimhavarman I, who was also known as Mahabali. 
Mahabalipuram is a favourite hunting ground for Archeologists and Historians alike. Many Neolithic burial urns, cairn circles, and jars were discovered here. Chinese & Roman coins dating found here reveal that it was as a seaport actively involved in global trade.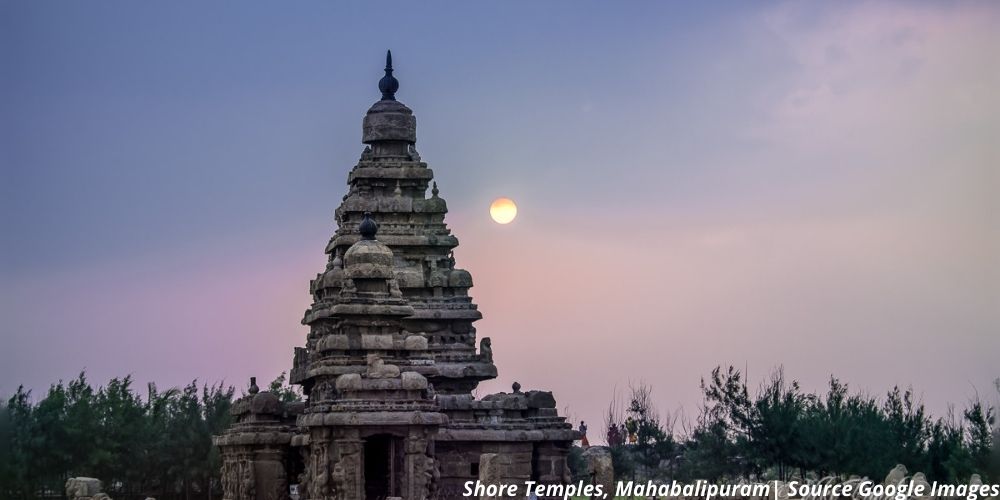 The Shore Temples of Mahabalipuram is a showpiece of Tamil architecture dating back to the 7th and 8th centuries. Other monuments of interest to visitors are the Rathas – temples depicting the 5 Pandavas of the Mahabharatha. 
Mahabalipuram Beach, Mahabalipuram Lighthouse, a Maritime Heritage Museum, and the Seashell Museum are other tourist places in Mahabalipuram honeymooners will love to discover.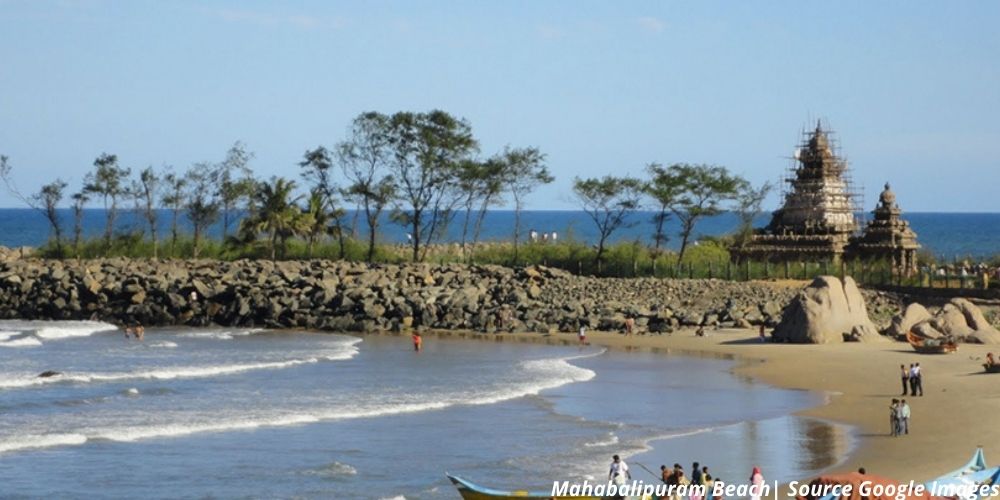 Wayanad holds the delights of both a hill station and a jungle adventure. It's definitely worth giving Wayanad a look in.
6. Wayanad – Wild & Undiscovered Jungle Retreat
Wayanad is a mesmerizing holiday destination bordering Tamilnadu and Kerala. The district is a thriving ecosystem for migratory birds and a haven for many endangered wild animals. Wayanad is located on the Western Ghats and has many lofty ridges that consist of rugged untamed terrain. 
Dense jungle and deep valleys create a magnificent natural landscape that tourists will love. Wayanad has over 2500 hectares of tea plantations that grow high-quality tea. The finest tea varieties are due to the high altitudes, abundant water, and temperate climate. The top tourist places in Wayanad are the Banasura Sagar Dam, E3-Theme Park, Kuruva Island, and the Soochipara Falls.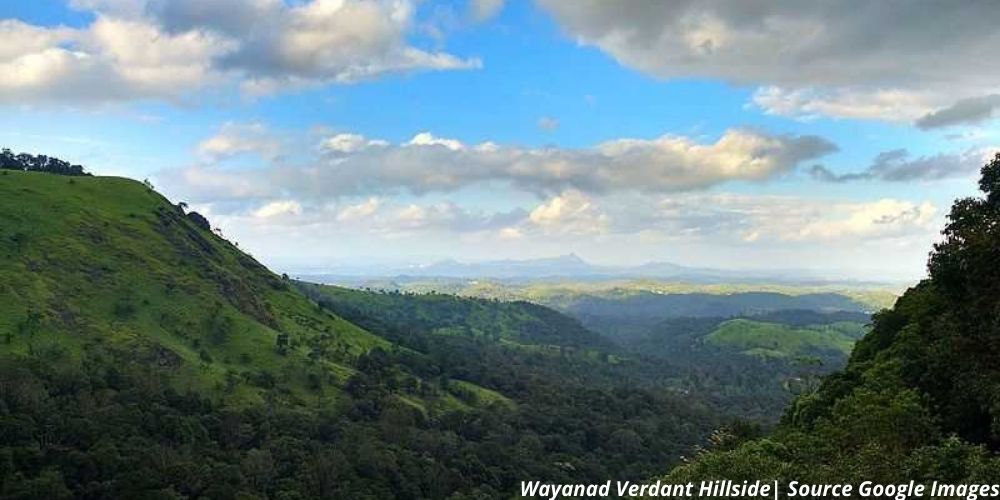 Wayanad is clean, pristine, enchanting, and magical. The jungles here are a contiguous landmass bordering Mudumalai and Bandipur. Wildlife can roam the region as these are the best-conserved forests in the country.
Tourists can plan many adventure activities like cycling, camping, cave camping, bamboo rafting, and trekking. The other popular places to visit in Wayanad's outskirts are the Chembra Peak, Edakkal Caves, and the Wayanad Wildlife Sanctuary.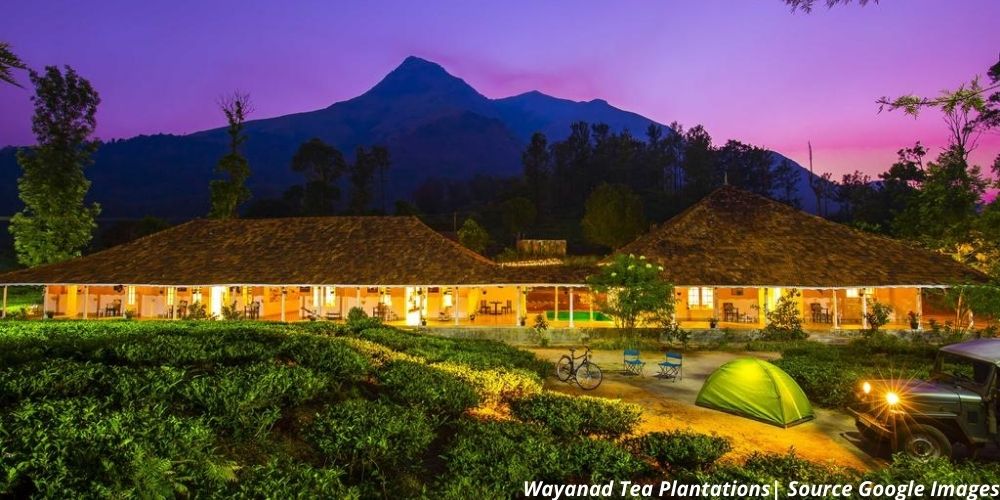 Munnar is as resplendent as Wayanad. Her natural landscapes make tourists keep coming back for more. Munnar is a magical honeymoon destination waiting to be discovered.
7. Munnar – Majestic Yet Light On the Pocket
Munnar is a beautiful, picturesque hill station in Gods Own Country, Kerala. Cocooned in the undulating hills of the Annamalai mountain range in the Western Ghats. Munnar offers travellers an astounding array of tourist attractions to visit and explore. Besides, it is dazzling and filled with natural wonders like mountain ranges, waterfalls, bungalows, tea estates, and wildlife sanctuaries.
Munnar is also at the confluence of three rivers -Madurapuzha, Nallathanni, and Kundala at 1600 meters above sea level. This unique geography with sun-kissed mountains, abundant water, and a temperate climate is ideal for tea to grow.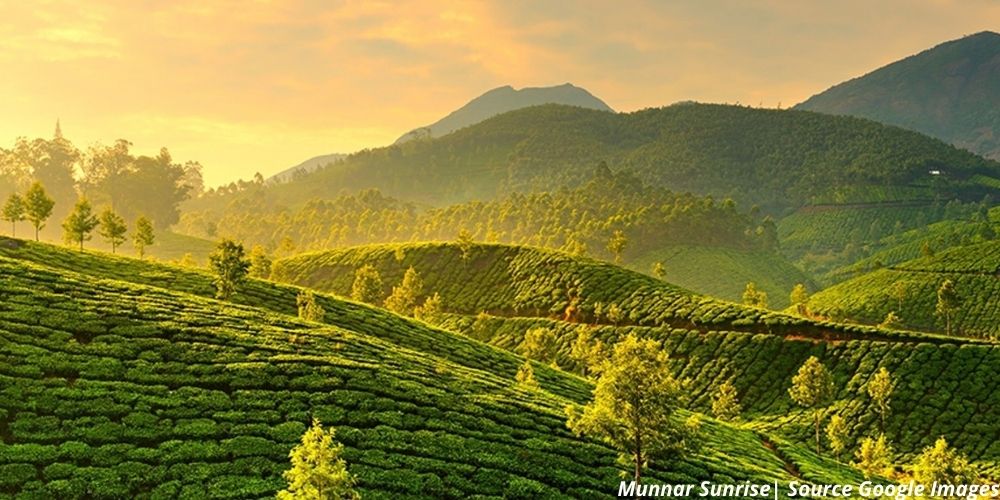 Tata's Kannan Devan Estate is a 6000-hectare legacy property is situated in Munnar. Incidentally, it is one of the largest tea estates in the country. The top tourist places in Munnar are the Echo Point, Kannan Devan Tea Museum, Rose Garden, and Blossom Park.  
Honeymooners love Munnar for its picturesque locales, lush green forests, and holiday spots. Neelakurunji, a rare flower variety unique to the Nilgiris blooms here once in 12 years. 
These flowers turn the entire hills into a verdant purple-blue landscape offering a stunning view of the mountains. The other popular places to visit in Munnar outskirts are the Eravikulam National Park, Marayoor Sandalwood Reserves, and the Elephant Arrival Spot.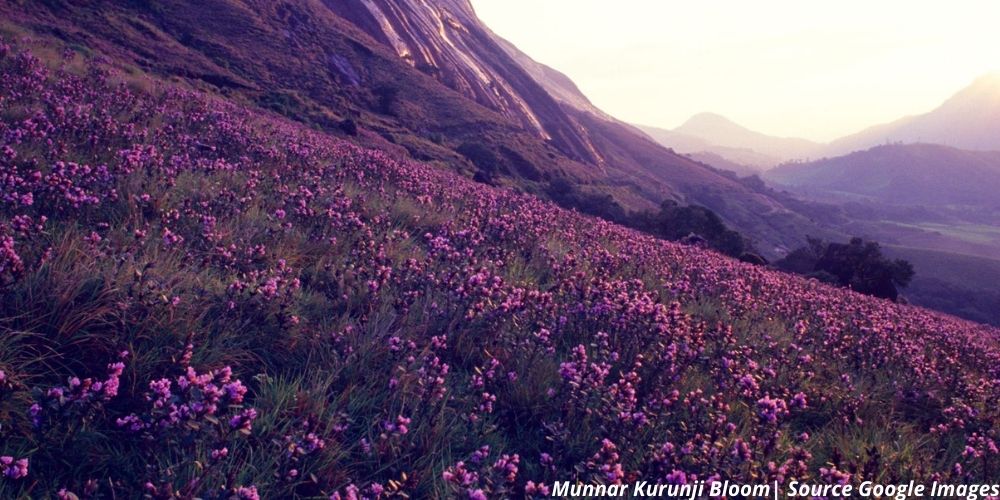 Kumarakom is an eclectic mix of the backwaters, forests and houseboats and can be clubbed with a visit to Wayanad. 
8. Kumarakom – Verdant Village in God's Own Country
Kumarakom is a verdant green village on the banks of Vembanad Lake. It is surrounded by rich green forests, boathouses, and beautiful backwaters. 
The interesting places to visit near Kumarakom are the Aruvikkuzhi Waterfalls, Vembanad Lake, Vagamon, Jatayu Rock, Pathiramanal Island, and the Kumarakom Craft Museum.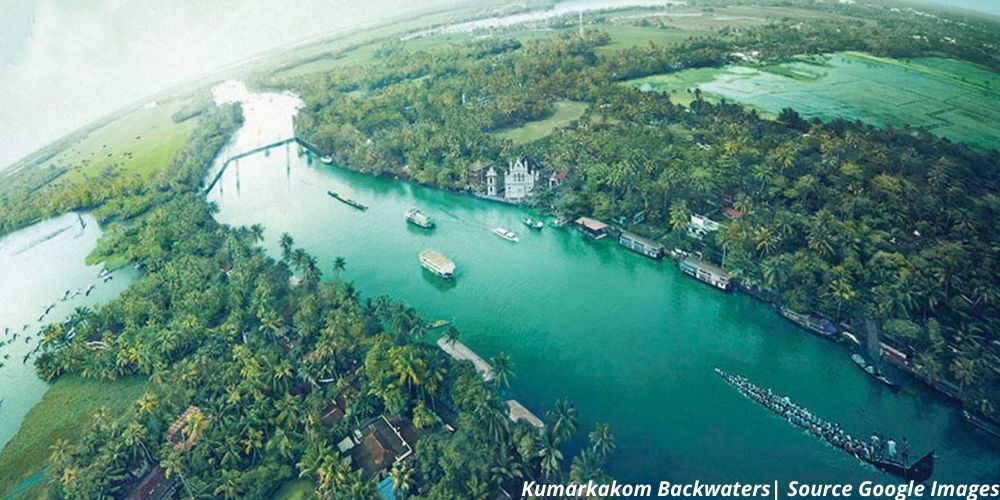 Kumarakom Bird Sanctuary is one of the best tourist places in Kumarakom along the Vembanad Lake. It is a sanctuary for many endangered birds. This bird sanctuary comes to life between June to August at the height of the breeding season.
Rare migratory birds like the Siberian Cranes, Lark, Egret, and Sky catchers can be sighted here. Honeymooners can take a boat cruise to catch a glimpse of these fascinating birds when visiting Kumarakom.
If honeymooners have time on hand then a visit to Coonoor before discovering Ooty is a good idea.
9. Coonoor – Ooty's Little Cousin
Coonoor, along with Ooty are sublime hill stations of the Nilgiris Hill Range. It is at an altitude of 1,800 m above sea level. Coonoor is home to spectacular landscapes with a variety of wildflowers and birds.
This hill station provides a perfect setting for trekking and hiking. Coonoor has been the favourite hunting ground for filmmakers & honeymooners alike for many decades. 
It is home to many migratory birds like cormorants, pipits, thrushes, parakeets, skylarks, etc. Travellers can enjoy an exhilarating ride on the toy train connecting Coonoor with Mettupalayam and Ooty. 
The trip provides some breathtaking views of the Nilgiri hills in all their natural glory. Some top tourist places to discover in Coonoor are Sim's Park, Droog Fort, Heritage Train, St George's Church, and the Rallia Dam.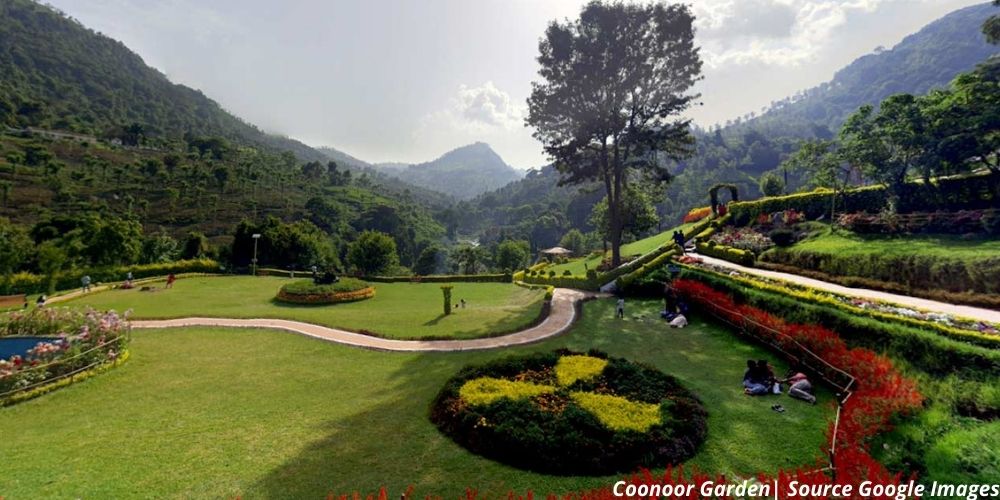 If places like Ooty & Munnar seem a bit far away from Bangalore then Chikmagalur is the ideal hill station honeymoon.
10. Chikmagalur – The Home of Coffee in Karnataka
Chikmagalur is spectacular and beautiful, a land of hills, lakes, and coffee. It is nestled in the Western Ghats of Karnataka and has many natural wonders waiting to be visited. Chikmagalur means "The town of the younger daughter" in Kannada.
Chikmagalur district is the source of three rivers Tunga, Bhadra, and the Nethravathi Rivers. Besides, the tallest mountain peaks in Karnataka – Kemmangundi, Baba Budangiri, and Mullayangiri are here. These mountain peaks are the most popular tourist places in Chikmagalur for all adventure addicts. 
The months between September to May are the best time to visit Chikmagalur when the temperature is pleasant. Besides, Belur & Halebidu temples in the Chikmagalur district are the must-visit places in Chikmagalur for all honeymooners.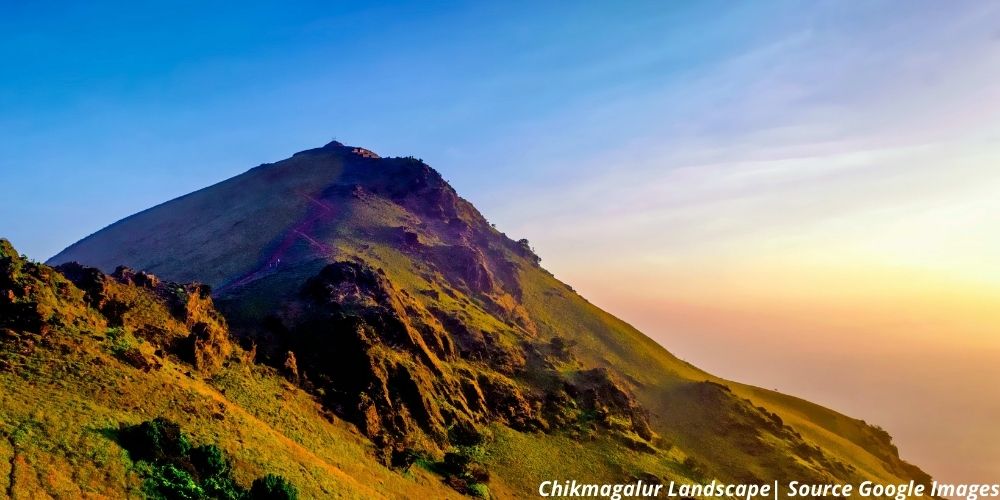 Coffee is grown in 85465 hectares in Chikmagalur. More than 15000 coffee growers in the district produce over 55,000 metric tonnes of coffee a year. The average coffee productivity per hectare is above the national average and attracts traders from all over the country for its high-quality coffee beans.  
Coffee plantations, towering mountains, dense jungle cover, magnificent waterfalls, and magical temples attract tourists here throughout the year. The top places to visit in Chikmagalur are the Kudremukh National Park, Baba Budangiri, Bhadra Wildlife Sanctuary. 
Honeymooners can club Mahabalipuram with a short visit to Pondicherry for an exciting honeymoon.
11. Pondicherry – A French Odyssey
Pondicherry is a former French colony. It is a perfect mix of traditional Indian traditions and French culture. White Town is a good way to start your Pondicherry tour. This French Quarter of Pondicherry is dotted with charming mustard-yellow colonial structures with bougainvillaea laden walls. 
Cosy cafes and chic boutiques offer delectable French cuisine and beverages. A simple stroll down Pondicherry's streets will give travellers an insight into the town's fairytale charm.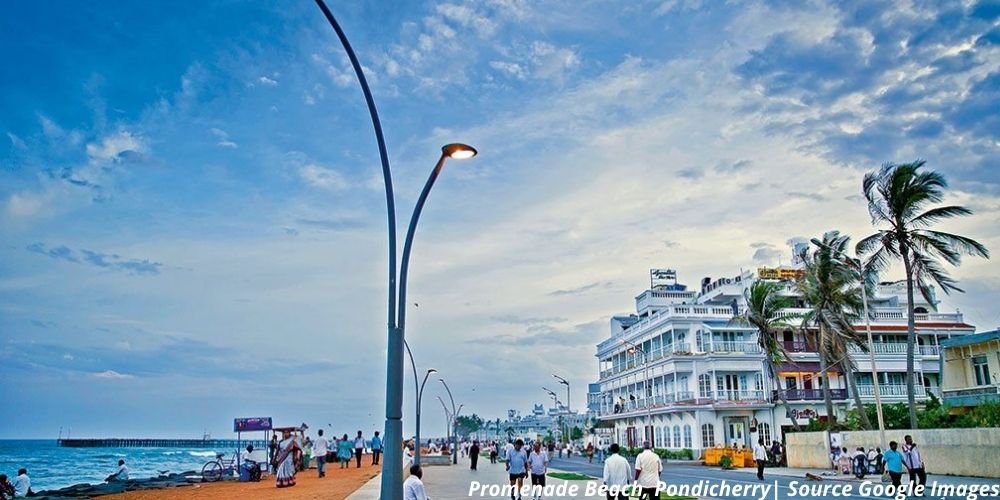 Topped with authentic French bakeries, bohemian stores, and cobble-stoned paths that are delightful for a stroll or a bicycle ride, Pondicherry has a lot to offer. Honeymooners can head to this romantic town of the Indian Coast for a romantic holiday.
The top tourist places for honeymooners in Pondicherry are Promenade Beach, Pondicherry Sacred Heart Basilica, Pondicherry Botanical Garden, and Pondicherry Auroville. A dreamy escape for honeymooners who will love the best of both cultures.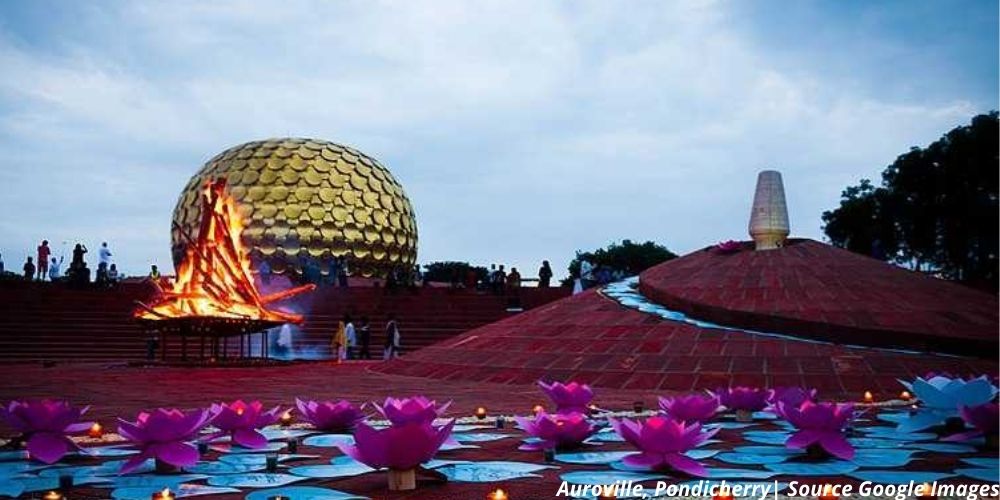 If a city-based honeymoon is not your type then a serene holiday at Alapuzzha is a good recommendation.
12. Alappuzha – Exotic Backwaters Amidst Palm Groves
Alappuzha, called the Venice of the East, is famous for some exotic beaches in Kerala. The charming backwaters of Alappuzha have attracted travellers since time immemorial with delightful houseboats.
Alappuzha beach is a popular picnic hotspot for both locals and tourists. The most beautiful beach in Kerala has an old pier that extends to the sea. Also, the old Alapuzzha lighthouse stands testament to a bygone era. Traders used to reach Alappuzha beach to trade for spices from far-off lands in the middle ages.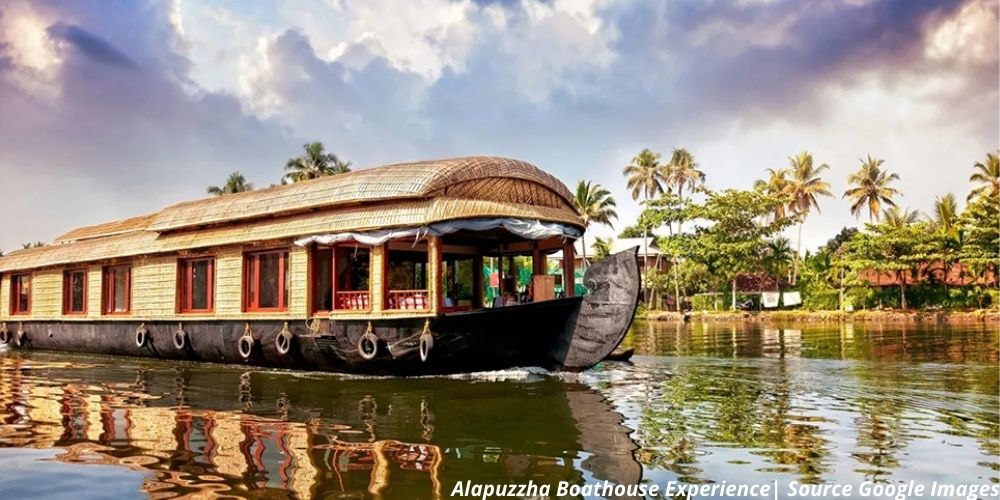 The important places to visit in Alappuzha are the Kuttanad Backwaters, St Mary's Forane Church, Krishnapuram Palace, and Alleppey Lighthouse & Pandavan Rock. 
Planning a holiday to any of these top honeymoon destinations in South India
A Honeymoon based holiday from Bangalore can be made affordable and safe when opting to travel by Deepam Cabs a taxi rental company from Bangalore. It has been helping people to enjoy wonderful holidays with family and friends since 2005.
Deepam Cabs outstation taxi service offers low-cost taxi rental services to any destination in South India. It provides the best outstation taxi service in Bangalore. Deepam Cabs is sure to keep everyone happy with pocket-friendly taxi rates with affordable outstation taxi service in Bangalore.
Romantic Things to do for a Long Lasting Married Life.
Creating magical moments in a lifelong relationship starts with a memorable honeymoon. Honeymoons are the starting point for all things beautiful inside marriage. 
Romance like all activities requires great effort and attention to detail. Marriage can be a love affair for a lifetime if the start begins with an enjoyable honeymoon.
Couples must practise free and open communication that builds mutual trust and respect.
Cultivate shared interests like doing things together like planning & working on household chores. This helps create an appreciation for each other's efforts.  

Paying attention to the small stuff, not doing things that irritate your spouse helps keep the relationship healthy. 

Laughing together, expressing gratitude, and never taking an argument for the next day are the keys to a life of fulfilment as married couples.